OMOTOLA JALADE BIOGRAPHY
Omotola Jalade Ekeinde is a popular Nollywood actress. She is married to Capt. Matthew Ekeinde and has 4 children. Apart from being one of the most successful Nollywood actresses, she is also a singer and is involved in extensive charity work in her home country of Nigeria.
Her first role in a movie came in the film "Venom of Justice"(1995).
Omotola J. Ekeinde burst into the Nollywood film industry with the movie "Mortal Inheritance" (1995) where she played a sickle-cell patient who fights for her life even when she knows she might not be able to live. At the end of the day, she has a baby and eventually lives. This film which received good reviews, won her awards for her role in the movie and is still known as one of Nigeria's best movies ever made. Ever since then she has not looked back and she has starred in blockbuster movies like "Games Women Play", "Blood Sisters", "All my life", "Last Wedding",My Story,The Woman in Meand a host of others. In the year 2005, she launched her music career.
Omotola was born on February 7 1978 in a family of five to Mr. & Mrs. Shola Jalade (both late) and two brothers, Tayo and Bolaji Jalade. She attended Chrisland Nursery School , Opebi, Lagos and Oxford Children School , Santos Layout. She then proceeded to Kaduna for her secondary education at Command Secondary School . She is currently undertaking an HND course in Estate Management at Yaba College of Technology (YabaTech), Lagos. She got married at the Ikeja registry on the 23rd, March 1996, and had a beautiful white wedding on board a DASH 7 Aircraft flying from Lagos to Benin, on the 19th April, 2001.
Besides acting, she also sings and has a soon to be released debut album. She features as a writer for the Saturday SUN (Omotola's Diary) and occasionally gets involved in Social Services for women and charity homes. Omotola Jalade Ekehinde is a beautiful award winning actress known for her craft all around Africa. She acts in Nollywood, the Nigeria home video movie scene that has in the past decade blossomed into a full fledged entertainment industry. For this screen goddess, life is family, scenes in a movie, songs in an album and the sure pleasure of getting feed back from her fans.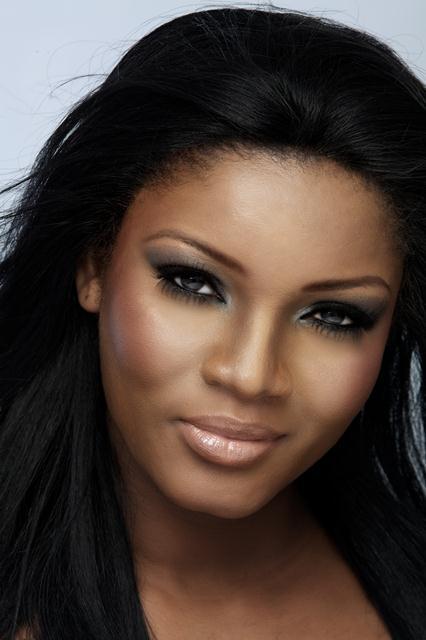 Omotola has within the space of 10 years been able to play major roles in numerous movies. She has played a prostitute, a prisoner, the lonely housewife, the bitchy manipulator and the girl next door. Omotola radiates the aura of a real star. She recently waxed a music album titled 'Gba' in 2006, and she sees herself as moving up like one rung from just being an actor to an entertainer. Omosexy as she is called by her fans, would not respond to anything that she claims "does not add value to my life".
In the year 2005 some actors were found to have been collecting huge fees from producers due to the fact of their A-list celebrity status. The Actor's Guild of Nigeria thereby placed the actors on a 1-year ban due to the behaviour. Among the actors were Omotola Ekeinde, Genevieve Nnaji, Stella Damasus Aboderin, Nkem Owoh, Ramsey Noah, Pete Edochie, Richard Mofe Damijo. This caused some actors to venture into music. The ban placed on these actors was seen as "doom" in Nollywood, since these were the industry "shakers". But the actors, including Omotola, have returned to filming movies. Omotola is working on her second album to be released the early part of 2009.
Filmography
*. Ties That Blind
*.A Private Storm
*.Ije (2010)
*.My Last Ambition (2009)
*.Beyonce & Rihanna (2008)
*.Temple of Justice (2008)
*.Tomorrow Must Wait (2008)
*.Yankee Girls (2008)
*.Careless Soul (2007)
*.Desperate Sister (2007)
*.Final War (2007)
*.Sand in My Shoes (2007)
*.Sister's Heart (2007)
*.The Prince of My Heart (2007)
*.The Revelation (2007)
*.Titanic Battle (2007)
*.Total War (2007)
*.Brave Heart (2005)
*.Games Women Play (2005) – (with Genevieve Nnaji and Desmond Elliot)
*.Queen of Hasso Rock (2005)
*.
A Kiss from Rose (2004)
*.All My Life (2004)
*.Die Another Day (2004)
*.Fateful Love (2004)
*.In Totality (2004)
*.Last Wedding (2004)
*.Masterstroke (2004)
*.Moment of Joy (2004)
*.My Blood (2004)
*.No One But You (2004)
*.Pretty Woman (2004)
*.Royal Family (2004)
*.The Woman in Me (2004)
*.Worst Marriage (2004)
*.Shackles and the Rugged Cross (2003)
*.Beyond Belief (2003)
*.Blood Sister (2003)
*.I Have a Dream (2003)
*.I Will Die for You (2003)
*.Market Sellers (2003)
*.My Best Friend (2003)
*.Naomi (2003)
*.Oyato (2003)
*.Rescue (2003)
*.Society Lady (2003)
*.Soul Provider (2003)
*.The Outsider (2003)
*.The Silent Book (2003)
*.Touching Love (2003)
*.True Love (2003)
*.Under Fire (2003)
*.What I Want (2003)
*.When Love Dies (2003)
*.Working for Love (2003)
*.Kosorogun (2002)
*.Lost Kingdom (1999)
*.Scores to Settle (1998)
*.Iva (1993)
*.Ije – The Journey (2011) (with Genevieve Nnaji)
*.Bianca (2011) (with Van Vicker)